Homesteader Trailers
Homesteader trailers are of the highest quality, with different sizes and models that can fit just about any hauling need. Homesteader is a manufacturer of quality trailers to travel all of America's beautiful roadways! Founded in 1985, Homesteader has grown into one of the nations leading manufacturer of enclosed cargo trailers, hydraulic dump trailers, motorcycle trailers, enclosed car hauler auto trailers and horse trailers. Name brand components, quality craftsmanship, professional Homesteader trailer dealers and personal service, separate Homesteader from other trailer companies.
Please visit or call us (732-775-7364) today to see all available models!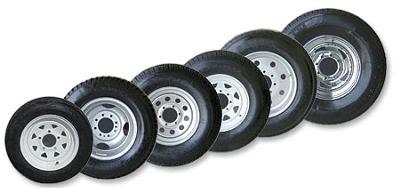 Largest selection of trailer tires
Painted or galvanized, spoke or modular, sizes 4.80x8 to 235/85R16, bias and radial.
See our selection now